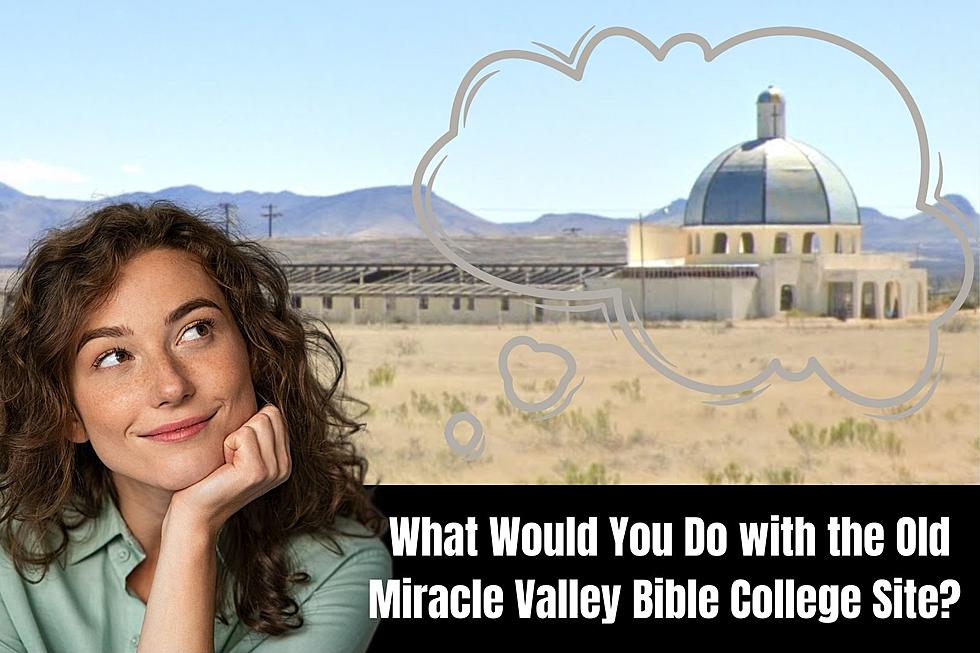 What Would You Do with the Old Miracle Valley Bible College in Cochise County?
What would you do with the Miracle Valley Bible College? // Background: Google Maps Street View. // Canva
Miracle Valley is a storied little hamlet located between Palominas and Hereford in Cochise County, Arizona. There's not much to see in this area. A small enclave of homes and then a few ranches, but not much else.
Not much, until you get to a large structure with a domed roof, set off Highway 92. The name of the road is Healing Way but it's been closed off for years. The crumbling structure is listed as Miracle Valley Tabernacle, Office on Google Maps.
Locally, the collection of buildings is referred to as the bible college. The crumbling structure has been the source of fascination for years.
The History of Miracle Valley Bible College
Miracle Valley Bible College was founded in Cochise County in 1959 by evangelist A. A. Allen, according to Wikipedia.
Allen died in 1970. Since that time, the Bible College and the surrounding property changed hands a number of times. The Don Stewart Evangelistic Association, the Southern Arizona Bible College, and the Miracle Valley Bible College and Seminary have all occupied the property at one time or another.
In 2009 the property was foreclosed on. A buyer stepped up, but the sale to Miracle Valley Arizona Ministries fell through in 2011.  In 2014, yet another group purchased the college and had plans to restore the derelict campus. They, too planned to return it to a bible college. Their plans never came to fruition.
The Sale and Demolition of the Bible College
In spite of the parade of organizations with the intention of returning the property to a bible college, no one has been able to get the project off the ground.
In early 2023 Cochise County, which is the current owner of the property, began to solicit bids to tear the deteriorating buildings down. This caught the attention of a small group who hoped to preserve the property, citing its historical relevance, according to the Sierra Vista Herald/Review.
Now, Cochise County has decided to put the approximately 37-acre property and buildings up for auction in a Tax Deed Land Sale. The fate of the property rests in the future buyer.
What Cochise County Would Like to See in the Old Miracle Valley Bible College
We asked what you'd like to see the old Miracle Valley Bible College turned into.
The crumbling buildings would require a lot of work if they were to continue standing, but we decided to imagine some things the buildings and the property could become.
Here are your top answers:
Women's Retreat
First Responder/Veteran Retreat
Sober Living/Rehab Center
Rollerskating Rink
Bed & Breakfast
Casino/Hotel
Event Center
Concert Venue
Movie Location/Set
School/Charter School
Indoor Flea Market
Mini Golf/Go Kart/Arcade
Wild Animal Rehabilitation Center
Return the Property to a Bible College
FOR SALE: Feast Yer Eyes on This Pirate Ship
LOOK: Famous Historic Homes in Every State
LOOK: See inside a modern day castle complete with drawbridge