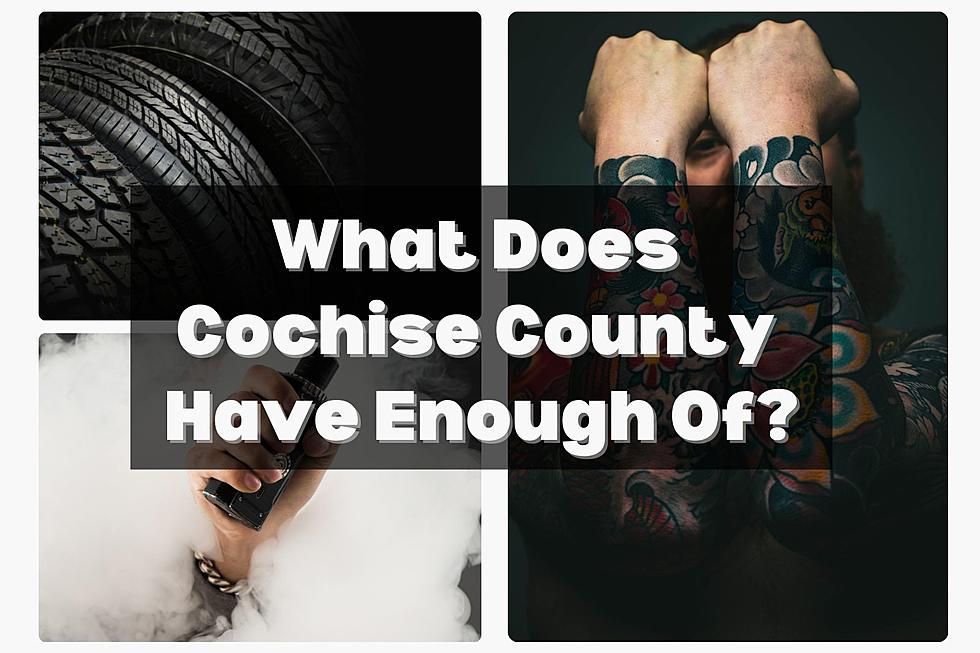 What Does Cochise County Have ENOUGH Of? The Top 7 Answers
Canva
What Does Cochise County Have Enough Of?
On our Facebook page, we asked our followers what Cochise County needs more of. You had a lot of ideas, we noticed a pattern. Many of the items were listed repeatedly. Read this if you want to know the Top 5 Answers.
You also volunteered some ideas on what you think Cochise County has PLENTY of. If you're looking at starting a business in Cochise County, here's the list of things we don't need to duplicate. You might want to keep brainstorming or refer to those things we actually want.
We Have Enough of THESE Things
Independent surveyors have asked residents in Cochise County for decades what they wanted more of. While places like Sierra Vista and Benson are pretty well set on grocery stores, the residents who live in the more populated areas would like to see alternative grocers like Trader Joe's or Sprouts come to town.
People who live further out in the county would really like a rural grocery store brought to their area. In place of those options, a lot of dollar stores have sprung up, but we're not so keen on that idea.
"I think it's safe to say we don't need another Dollar General or .99 Cent Store!" Bianca observed on our Facebook Page.
The Top 7 Businesses We Have Enough of in Cochise County
According to the answers given on our Facebook page, here are the items that were mentioned repeatedly that we don't need any more of:
Dollar stores
Car washes
Tattoo shops
Vape shops
Fast food restaurants
Coffee shops
Tire stores
While some folks listed specific fast food restaurants that they would like to see come to our area, establishments like Whataburger or In 'n Out Burger, for the most part, we're doing alright in this department and most people don't want to see more low-paying jobs.
"We have a LOT of tattoo and vape shops," Manuel noted. "Do we really need that many?" That's a good question. We seem to be testing the limits on exactly how many our economy can sustain.
There was a time when our area had only a small number of independent coffee shops or cafés, but now we have a broad spectrum. There's a little something for everyone, and they're great places to meet if you're meeting with friends about starting a new business. Some people said we don't need more.
"I really love the coffee house options we have," Mary noted.
The One Thing We REALLY Want in Cochise County
If you've lived here long enough, you're familiar with the Sad, Sad Tale of the Sierra Vista Red Lobster That Never Was. If you're new to Cochise County, you're probably wondering about all this Red Lobster Chit Chat is all about.
While Sierra Vista almost got a Red Lobster to open in town, the dream fizzled and died. But there are still those who hope.
While we might have enough taco shops in the county (I can't believe I just wrote that with a straight face...I mean...you can never have too many opportunities for tacos!), we would all rally around a Sierra Vista Red Lobster. At first, anyway.
If you've never been to the Sierra Vista Red Lobster, here's how you get there. If you go, say hello the the Asst. Bus Boy for us, okay? (IYKYK)
Californians Moving to Arizona are in For a Rude Awakening
Things are different in Arizona. If you're transplanting from California, there are some things you'll need to get used to.
Gallery Credit: Val Davidson
11 Things We Love and Hate About Living in Arizona
There's a lot to love about living in Arizona. People around the world have relocated here for the weather, the beauty, and the history.
There are also some things about living in The 'Zone that aren't so great. We held an informal poll and asked what you LOVE and what you HATE about living in Arizona.
Gallery Credit: Val Davidson/TSM
Only True Arizonans Can Pronounce These Words Correctly
Do you know how to pronounce these words? Only people who are truly from Arizona can pronounce these words correctly.
Gallery Credit: Val Davidson