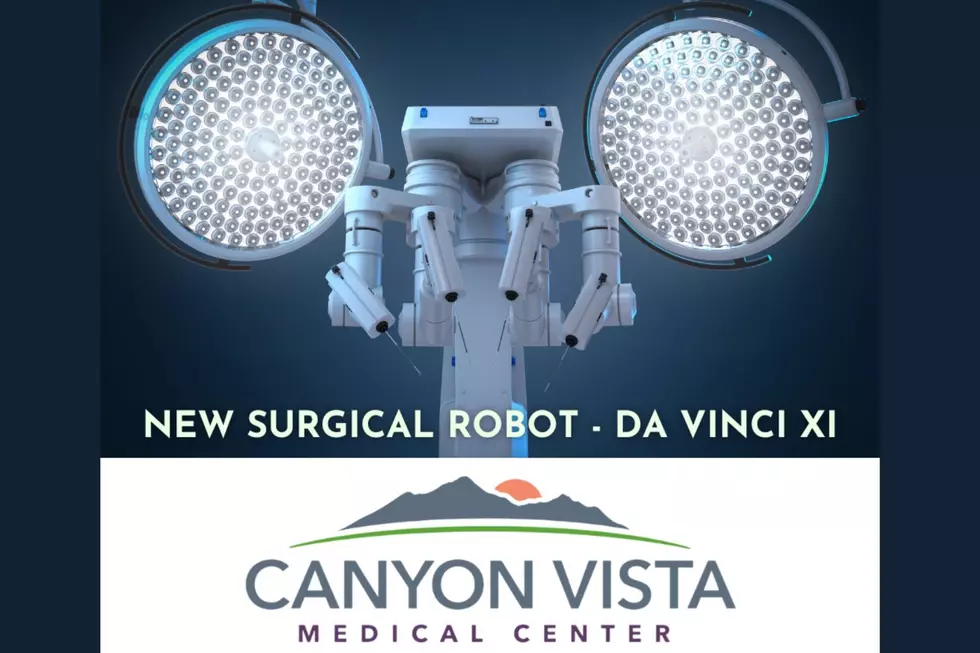 How You Can See Canyon Vista Medical Center's New Surgical Robot
Meet da Vinci Xi. Canyon Vista Medical Center's new Surgical Robot. Image Courtesy: Canyon Vista Medical Center
Robots, once existing only in science fiction, are now a reality right here in Sierra Vista. Canyon Vista Medical Center (CVMC) just announced an addition to its surgical services: the purchase of a new surgical robot.
MEET DA VINCI XI: THE NEW SURGICAL ROBOT
According to today's press release, "The robot is located tableside in the operating room, and it allows a surgeon's hand movements to be scaled, filtered, and translated into precise movements of micro-instruments at the surgical site."
HOW IT WORKS
Surgeons train for years to perform precision operations and this technology will boost them to the next level. I wondered how a surgical robot might assist in both complex and routine procedures.
"The magnified, high-resolution, three-dimensional view the surgeon experiences enables him/her to perform precise and complex surgery through very small surgical incisions," the press release explains.
"The surgeon is 100% in control of the robotic system. The 3D-HD image can be magnified up to ten times so the surgeon has a close-up view of the area he or she is operating on, and the robotic instruments have mechanical wrists that bend and rotate to mimic the movements of the human wrist -- allowing your surgeon to make small, precise movements inside [the] body."
Dr. Michael Thompson, DO, a general surgeon who has trained in minimally invasive and robotic surgery shared: "We are very excited about the addition of the robotic system to our portfolio of surgical offerings at Canyon Vista Medical Center. Not everyone is a candidate for robotic surgery, however, patients should consult with their doctor about the best surgical method for them individually."
Ultimately, new equipment for general surgeons can provide greater precision during surgery, faster recovery, and few complications for patients.
YOU'RE INVITED TO THE OPEN HOUSE

To learn more about robotic surgery, Canyon Vista Medical Center invites the community to the unveiling of Cochise County's only multispecialty surgical robot, da Vinci Xi.
The hands-on open house event will be held Friday February 17th from 10am to 12pm at Canyon Vista Medical Center, 5700 E Hwy 90, Sierra Vista, AZ 85635.