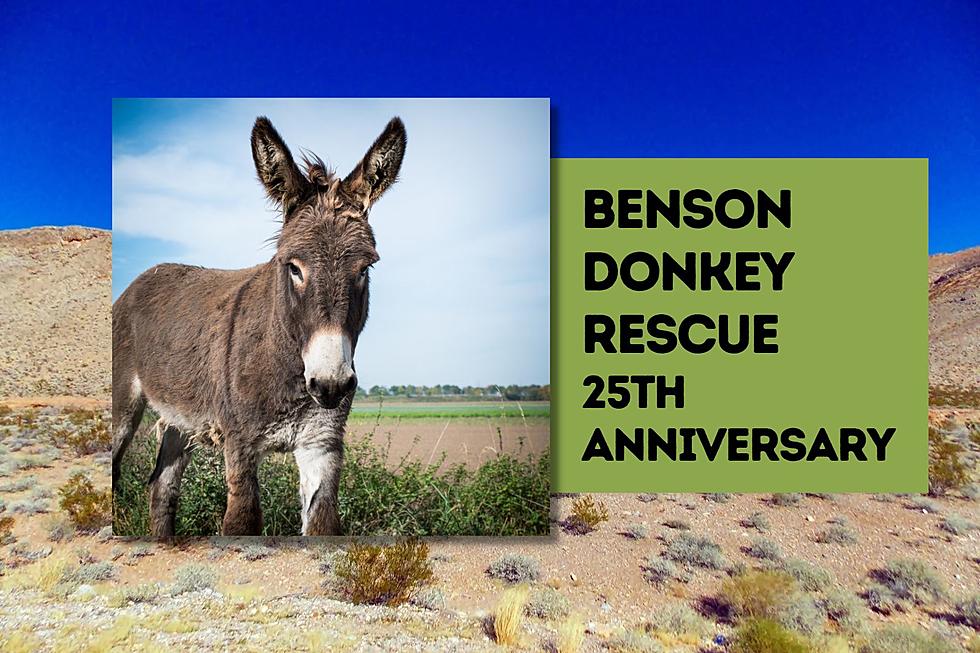 Celebrate the Benson Donkey Rescue & Sanctuary
Donkey Rescue 25th Anniversary. Credit Canva
It all started in 1997. Tish Hiestand grew up in Texas, but when she moved to Tucson, so told her husband John how much she missed the horses she grew up with.
When her birthday rolled around, John bought Tish a donkey they called BlackJack. Donkeys like to live in groups, so a short time later the added a new donkey, but discovered he had health problems. Soon BlackJack was alone again.
That's when the Hiestands took out an ad announcing they were looking to adopt a friend for BlackJack. It wasn't long before they were flooded with answers. They mostly got responses from people who said if the Hiestands could catch 'em, they could have 'em, and they quickly realized there were unwanted donkeys all over the West.
The Sanctuary is Born
That's when the couple hatched the idea of starting a donkey sanctuary. It's been 25 years since it began, and now they're celebrating the 25th anniversary of Forever Home Donkey Rescue and Sanctuary Benson.
The 501c3 nonprofit now cares for dozens of donkeys, some recovering from poor care, maltreatment, neglect or illness. The donkeys now have a stable home to live out their lives.
Celebrate 25 Years!
You can see these gentle animals for yourself as they celebrate their 25th Anniversary with an open house on Saturday, March 4 from 10am to 4pm.
They'll host live music by Chuck Andrews, kids crafting tables, cookies, and of course live donkeys to visit! Admission to this event is free.
There will be many activities to celebrate, including kids' crafts. Visitors are welcome to bring a chair, a picnic lunch, and spend the day with the donkeys!
Address: 360 W Rockspring Lane, Benson, Arizona or call (520) 212-0100 or visit Forever Home Donkey Rescue on Facebook.