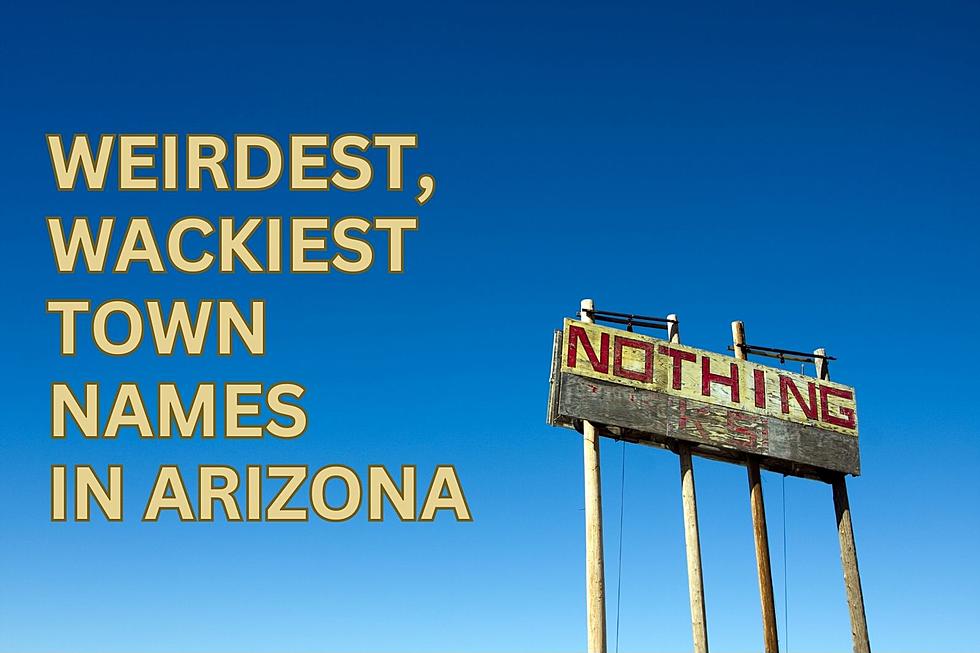 The Weirdest, Wackiest Town Names in Arizona
Canva
We're all familiar with the legendary town of Tombstone - the Town Too Tough to Die. Movies and television shows put this little place on the map. But Tombstone seems like a rather mundane moniker compared to these Arizona towns. How'd these places get such odd names?
Here's a short list of some of the creative, silly, odd and weird names our little western state boasts.
First Stop: Nothing
I recently went through Nothing, Arizona on my way to Las Vegas. This isn't an overstatement: there is literally NOTHING in Nothing. All that's left is the old bones of a now-defunct gas station. It feels like the kind of dusty roadside stop where you could pay a nickel to see a two headed snake, get some gas and the then carry own down the road and forget everything about Nothing.
If you're looking, you can find Nothing in Mohave County, on Highway 93. The town's gas station, convenience store, and singular restaurant - a pizza place - shut down around 2011.
Now, Nothing is nothing but a ghost town, with a sign that reads: "Town of Nothing Arizona. Founded 1977. Elevation 3269ft. The staunch citizens of Nothing are full of Hope, Faith, and Believe in the work ethic. Thru-the-years-these dedicated people had faith in Nothing, hoped for Nothing, worked at Nothing, for Nothing."
Next Stop: Why
The town of Why is in Pima County, down near the Mexican border. How'd this little town get such an unusual name?
Why was named from the shape of the intersection at State Routes 85 and 86, which forms a Y.  Arizona law requires town names to have at least three letters, so the founders spelled it "Why."
This is another blink-and-ya-miss it place - more famous for its name than anything else. With a population of only around 100 people, the most popular question is likely, "Why do we live in Why?".
Third Stop: Carefree
This town sounds like a nice place to live. Carefree is up in Maricopa County, with just a little over 3,600 citizens. Carefree was founded as a master-planned community in the 1950s.
The town of Carefree's motto is "Home of Cowboys and Caviar, Where the Old West Meets the New".
The town also has some 'carefree' street names, such as Ho Hum Drive, Easy Street, and Never Mind Trail.
Final Stop: Show Low
Compared to some of the other towns in this list, Show Low, has a booming populace - around 10,000 people. The legend behind the name is one most Arizona school kids know, but if this is news to you, read on.
It all started with a poker game. Sometime in the 1870s, two men named Corydon Cooley and Marion Clark were living on a large ranch in the area.
They decided that the land was "too small for the two of them". The men agreed to settle their dispute with a game of cards. The winner would get the ranch, and the loser would have to move away. They played for hours, until they ran out of cards. Then Cooley said, "If you can show low, you win."
He drew a card and showed a deuce of clubs, the lowest possible card. Clark thought he had him beat, but when he drew his card, it was the ace of spades. Cooley exclaimed, "Show low it is!" And that's how the town got its name.