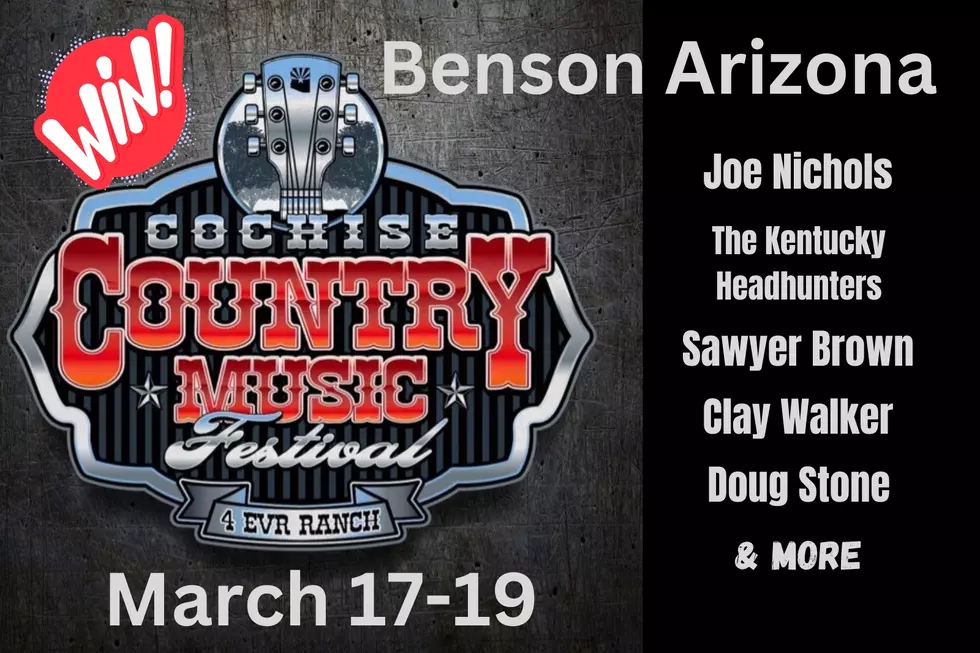 The Cochise County Music Festival in Benson, Arizona
The Cochise County Music Festival, Canva
The Cochise County Music Festival will be in Benson Arizona March 17-19, 2023. The event will take place at 4Evr Ranch 714 Madison Street in Benson. The line-up includes Joe Nichols, Kentucky Headhunters, Sawyer Brown, Clay Walker, Doug Stone and more. Link to buy tickets and campsites below: 
Joe Nichols has 12 studio albums. Some of his hits are "The Impossible," "Tequila Makes Her Clothes Fall Off," "Gimmie That Girl," "Yeah," and "Sunny and 75."  
The Kentucky Headhunters - Some of their hits are, "Walk Softly on This Heart of Mine," "Dumas Walker" "Oh Lonesome Me," "Rock & Roll Angel," and "Big Boss Man." They won a Grammy Award as well as awards from the Academy of Country Music. 
Sawyer Brown has more than 20 albums and has charted more than 50 singles Some of their hits, "Step That Step," "Some Girls Do," "The Walk," "Thank God for You," and "All These Years."  
Clay Walker has released 11 studio albums. Some of his hits "What's It to You," "Live Until I Die," "Dreaming with My Eyes Open," "This Woman and This Man," and "Rumor Has It."  
Doug Stone has 8 studio albums. Some of his hits include "I'd Be Better Off (In a Pine Box)," "Too Busy Being in Love," "Why Didn't I Think of That," "A Jukebox with a Country Song" and "Come In Out Of The Pain".  
Other groups at the festival are Mark Powell, Drew Cooper, Bri Bagwell, The Cole Trains, Mamma Coal and more. 
Some bluegrass bands as well AJ Lee & Blue Summit and NUBLU.  
TICKETS
3 Day Preferred Seating Pass $259 (Includes prime seating directly in front of the stage) 
3 Day General Admission Pass $189 
1 Day General Admission Pass $99 
3 Day VIP Tent Pass $359 (Includer 3-day access to VIP area plus food, drinks with preferred seating and parking pass 
RV trailer camping (No hookups)  
Standard camping site 15X40 $179 
VIP prime site 20X45 $249 
Standard tent camping $99 
Parking $10 per day or $25 for 3 days 
Prime parking $15 per day or $30 for 3 days 
Get tickets and more information Cochise Country Music Festival - Information - 4Evr Ranch Equestrian Center | Southwestern Ranch Event Venue for all Occasions