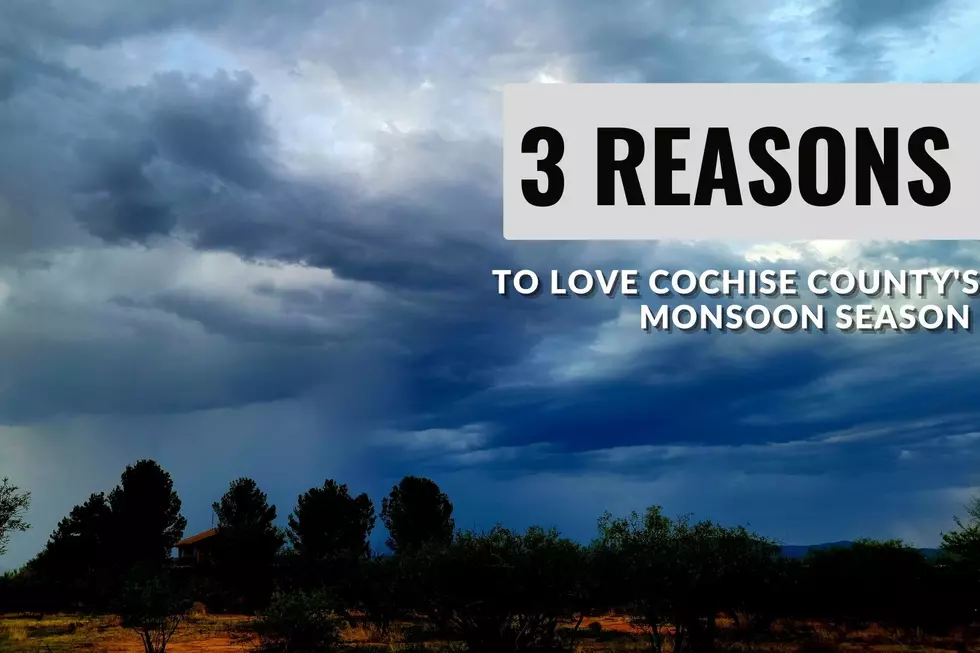 Monsoon Season: 3 Reasons This Is The Best Time of Year in Arizona
Monsoon Sky Photo credit: Val Davidson/Townsquare Media
MONSOON SEASON: 3 REASONS THIS IS THE BEST TIME OF YEAR IN SOUTHEASTERN ARIZONA
With the lightening show firing up the night sky last night, the drama of the rain coming in sideways, and the dramatic BEEP-BEEP-BEEP of our cell phones sounding the alert in unison for what we already knew: our monsoon was living its best life and giving us a fabulous show!
Aside from a power blip and the inconvenience of resetting all the clocks in the house, this year's monsoon has been delightful. Living in Southeastern Arizona is unlike anywhere else.
BUT IT'S SO HOT IN ARIZONA! (OR IS IT?)
First, when friends and family from back east ask in all seriousness HOW we can possibly live here where it's so dry, so brown, so hot – I just shrug and say solemnly, "well, we do our best".
Inside, I'm snickering! While they're melting under 87-degree heat and 96% humidity, we're watching the morning sun turn into midday clouds, knowing the promise of rain is coming to our afternoon. Or while they're pummeled with days of gray, miserable skies, and sad drizzle, we know our rain will be welcomed and enjoyed for an hour, maybe two. And the bonus? Heat and humidity will tease us, but never really hang around long.
WE'RE LOWERING THE FIRE DANGER
Second, we value our monsoons. We know every drop of rain we get lessens the chance of wildfires like the Monument Fire we experienced in 2011. Anyone who remembers evacuating families, homes and animals feels a deep respect for the drenching, life-giving monsoon moisture we get this time of year. And to anyone we know who lost their homes, pets or businesses, we bless the rains as they bring life back to our region.
THERE'S NO PLACE LIKE (COCHISE COUNTY) HOME
Third, there's just something about the feeling in the air, the smell of the rain and the beautiful rhythm of our summer that is like no other on the planet. While we're concerned the rest of the country is under an oppressive heat wave, we're immensely grateful for the beautiful seasonal monsoons!
Tonight, set out some bowls to collect a bit of rainwater and feed it to your houseplants. Grab your chair and park it (safely) under your porch eaves. As the first drops begin to fall, feel a little of that dewy moisture tease your skin – and together we'll feel immense gratitude for living in the most beautiful time and place on earth – our summer monsoons in Cochise County!